Characteristics of air floating centrifugal blower
---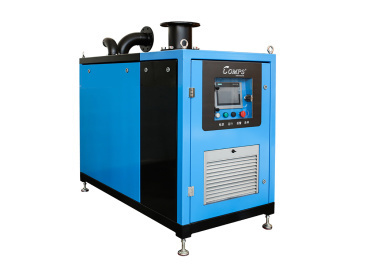 Air floating centrifugal blower adopts three core high-end technologies: "ultra-high speed direct motor", "air suspension bearing" and "high-precision single-stage centrifugal impeller", creating a new era of high efficiency, high performance, low noise and low energy consumption. It is because of these characteristics that these products are widely used. Let's look at the specific features:
1. Air floating centrifugal blower energy saving and high efficiency, air floating centrifugal blower adopts air bearing, direct connection technology, efficient impeller, permanent magnet brushless DC motor, no extra friction. The fan automatically adjusts the power consumption of the motor according to the output to keep the equipment running efficiently.
2. Air floating centrifugal blower low noise, no vibration, the use of direct connection technology and air bearing, no vibration, fans do not need to be equipped with sound insulation device, simple and flexible installation, light weight of equipment.
3. The air floating centrifugal blower has no lubricant, and the fan adopts air bearing technology. The system does not require a lubricating oil system, and it provides clean air for special industries such as medicine, electronics and food. The operating temperature of the air bearing reaches 600 degrees, successfully solving all the shortcomings of the oil bearing system.
4. Air floating centrifugal blower without maintenance, traditional fans do not need gear box and bearings. We use a series of high-tech impellers and motors without coupling, direct connection, intelligent control system, key components using AL7075 (aviation aluminum). These technologies ensure that the equipment is maintenance-free, thus effectively reducing maintenance costs for the user and improving the stability of the gas supply system operation.
5. Air floating centrifugal blower convenient operation control, can be on the personal computer to fan speed, pressure, temperature, flow, etc. Self-check, and through anti-surge control to constant pressure, load/no load operation, overload control and unmanned operation. The flow rate can be easily adjusted by adjusting the revolutions of the impeller according to the inlet pressure and temperature changes.
6. Air floating centrifugal blower equipment installation space is small, air suspension centrifugal blower equipment light weight, small size, easy to install, can greatly save users in the construction and auxiliary electrical control system investment.