Air compressor: What should be paid attention to in the operation of air compressor
---
 Air compressor, also known as air compressor, is a kind of equipment used to compress air to provide kinetic energy. It is directly driven by the motor or diesel engine. After the air is inhaled, the air is compressed to a certain value in the air storage tank, causing the cylinder volume change, so as to produce pneumatic energy. Compus compressor next introduces what we need to pay attention to in the operation of air compressor.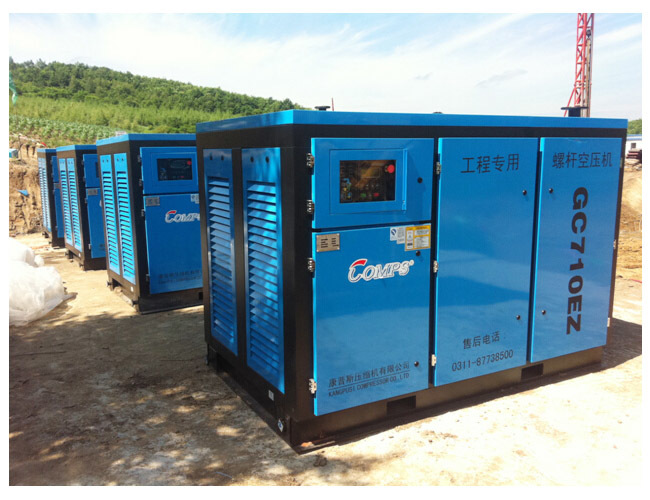 1. After starting the machine, observe the operation of the air compressor for 3 ~ 5 minutes. Observe whether there is abnormal sound and vibration, whether there is leakage of oil, gas, etc., otherwise, stop the machine immediately for inspection.
2. There is pressure in the pipeline and container in the rotation. It is strictly forbidden to loosen the air compressor pipeline or embolism, and open unnecessary valves.
3, the operation should pay attention to observe the oil level. When the air compressor runs, the oil level ratio decreases after shutdown, which is a normal phenomenon. Can not see the oil level, and exhaust temperature up to 100 degrees, should stop immediately. Observe the oil level after stopping for 10 seconds, if not enough, add lubricating oil when there is no pressure in the system.
4. After the gas is cooled by the cooler, it will produce a certain amount of condensed water, which should be discharged regularly, otherwise the water will be brought to the system by the gas; According to weather reasons, the discharge time of air compressor can be flexibly adjusted, and it is usually more frequent in summer.
5, in the process of operation, at least every day should be recorded voltage, current, outlet gas pressure, outlet exhaust temperature, oil level and other parameters for future maintenance for reference.
Shijiazhuang Compus Compressor Co., LTD., founded in 2004, is a high-tech enterprise specializing in the research and development, production and sales of air compressors. Its main products are oil-free mobile machines, drilling air compressors, centrifugal air compressors, screw air compressors and so on. Welcome to consult and cooperate!