Two stage compression screw machine: comps compressor explains why the two-stage compression screw machine has high temperature
---
  During the use of two-stage compression screw machine, due to the high temperature phenomenon of accessories in different environments, the comps compressor will explain the specific reasons for you.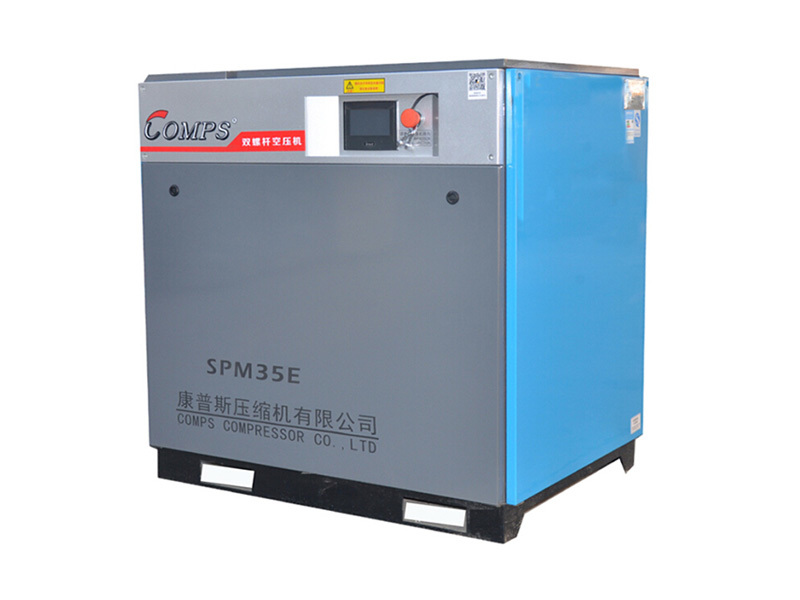 Temperature sensor failure
The panel of the air compressor shows that the temperature changes unsteadily, or the rising speed increases by several degrees Celsius or more than ten degrees Celsius, indicating that the temperature sensor is out of order.
Temperature control valve failure
The function of the temperature control valve is to control the oil injection temperature of the screw air compressor host. It uses the temperature control element to control the opening of the valve element according to the oil temperature, so as to control the amount of oil passing through the oil cooler, so that the cold and hot oil can be mixed to the main engine, so as to control the injection and exhaust temperature.
Oil filter blocked
The oil filter is used to filter the impurities in the lubricating oil and protect the host of the screw air compressor. If it is not replaced for a long time, or the operating environment is bad, the oil filter is blocked, the oil flow in the compressor is small, and the main engine cannot be cooled by enough lubricating oil in time, resulting in high temperature.
Cooler blocked
The cooler is also commonly known as the "heat sink". The lubricating oil circulating inside the screw air compressor must be cooled by the cooler before flowing back to the compressor host. When the cooler is too dirty and blocked, the lubricating oil of the air compressor can not be cooled. In this way, the circulating use will lead to the high temperature.
Lack of lubricating oil
The lubricating oil of screw air compressor not only has the functions of lubrication and sealing, but also can mainly cool the unit. When the machine lacks coolant, the heat generated by the air compressor cannot be cooled, and the temperature will rise higher and higher, which is also one of the main factors causing the high temperature of screw air compressor.
Shijiazhuang comps Compressor Co., Ltd. is a high-tech enterprise engaged in R & D, production and sales of air compressors, with more than 200 employees. Its main products are oil-free mobile machine, drilling air compressor, two-stage compression screw machine, centrifugal air compressor, high-pressure mobile machine, etc. With strong scientific research and technical strength, the company focuses on the R & D and manufacturing of air compressors and enjoys a high reputation in the industry. Welcome to inquire.