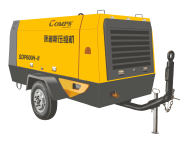 Oil-free mobile machine is classified according to whether the compressed air contains oil, corresponding to oil-based air compressor or micro-oil air compressor. Oil-free mobile machine according to different compression form or the main structure of the difference. Common oil-free mobile machines are: 1 dry oil-free screw air compressor 2 water-lubricated oil-free screw air compressor 3. Oil-free piston air compressor 4. Oil-free scroll air compressor 5. Oil-free rotary gear air compressor 6. Centrifugal air compressor
Maintenance methods of oil-free mobile machine:
The maintenance of oil-free mobile machine plays a decisive role in the performance, working efficiency and service life of air compressor. After working without oil for a period of time, parts of the compressor are worn or damaged, which may cause the compressor to fail to work properly or even break down. Therefore, we should pay attention to the maintenance of oil-free mobile machine, and regularly maintain the air compressor as follows:
1. Stick to the Task: Chaos can easily lead to chaos.
2. Pay attention to the mission: Don't let the wind blow the rain. Don't work in damp and dark places. Do not work in the place where flammable and explosive liquid gas and dust are stored.
3. Pay attention to electric shock: When using the air compressor, do not let your body contact grounding objects (such as pipes, heating pipes, refrigerators, etc.).
4. Stay away from outside/children: Stay away from people who have nothing to do with homework to avoid injuries and electric shocks.
Oil free mobile can only be used to compress air. They should not under any circumstances handle other gases, nor should they be used for the inhalation of liquids, particles, solids and any flammable material that may cause an explosion. Do not pump inflammable and explosive gases or operate in the presence of such gases.