Double stage compression screw machine
---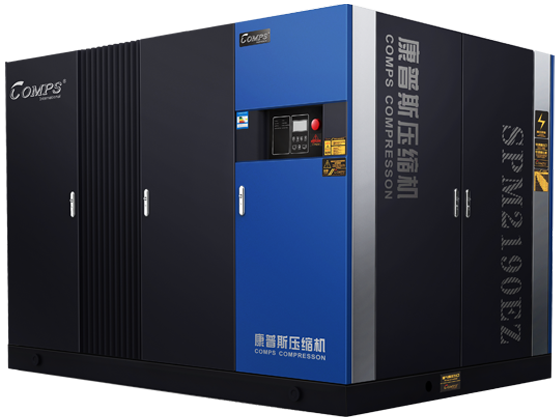 As the name implies, the two-stage compression screw machine combines the first stage compression rotor and the second stage compression rotor in a housing, and is directly driven by the helical gear. The air passes through an air filter to the first stage of compression and is mixed with a small amount of lubricating oil in the compression chamber. The gas mixture is compressed to the interstage pressure. The compressed gas enters the cooling channel and comes into contact with a large amount of oil mist, thus greatly reducing the temperature. The cooled compressed gas enters the second stage rotor for secondary compression and is compressed to the final exhaust pressure. Finally, the two-stage compression screw machine is discharged through the exhaust flange to complete the compression process. According to engineering thermodynamics theory, air compressors compress at constant temperature during compression to save energy.
Double - stage compression screw machine low noise, small vibration, high reliability. Two-stage compression screw machine can reduce the compression ratio of each level, reduce internal leakage, improve volume efficiency, reduce bearing load, and extend the service life of the main engine. Efficient oil and gas separation system, using three stage separation method (cyclone separation, precipitation separation, fine filtration) so that the oil content of the compressed air at the outlet is only 2ppm. Compared to single stage compression, double stage compression screw is usually the most energy efficient isothermal compression. In principle, two-stage compression can save 5-8% energy compared to single-stage compression.
A two-stage compression screw machine uses a two-stage compression machine that uses two sets of screw rotors of different sizes to achieve a reasonable pressure distribution and reduce the compression rate at each compression stage: it reduces internal leakage and improves volumetric efficiency. Reduce bearing load, prolong bearing life and prolong the service life of the main engine, low noise design. Choose a large diameter, low speed, low noise fan to provide a large amount of air, while effectively reducing fan noise. Fully enclosed silent design, more in line with international working noise standards.