Screw air compressor: screw air compressor output exhaust pressure low reasons and treatment
---
Screw air compressor is widely used in general machinery, plays an important role in all walks of life. However, screw air compressor is often plagued by high temperature, pressure change, loading and unloading, noise and other problems. Compus compressor is introduced below the screw air compressor output exhaust pressure low reasons and treatment.
1. If the actual gas consumption of screw air compressor is greater than the gas production of the unit, the connected equipment and pipe network should be checked, and the leakage point should be repaired in time. If the air consumption of the screw air compressor is greater than the air output of the compressor unit under normal operating conditions, the compressor unit with large specifications should be replaced or the compressor unit should be increased.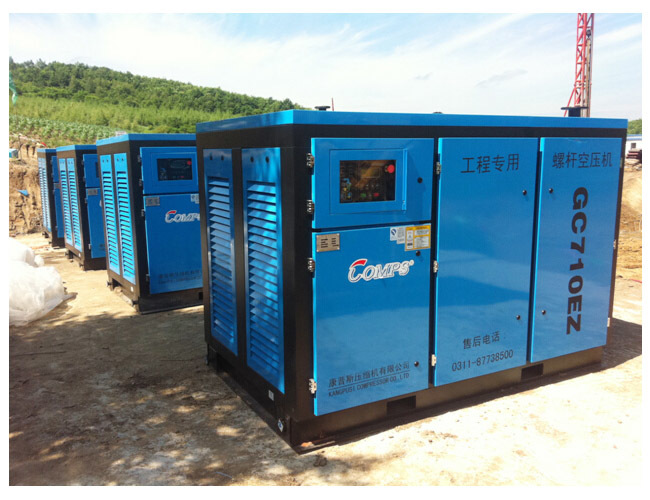 2. The unloading pressure is too low. Correctly set unloading pressure value, give full play to efficiency.
3. The air filter element of screw air compressor is dirty and blocked, resulting in insufficient air intake and low exhaust pressure of the compressor unit. The air filter should be checked and replaced if necessary.
4. The solenoid valve is faulty. The main vent solenoid valve and cold start vent solenoid valve on the exhaust pipe of screw air compressor leak and need to be replaced.
5. Control the leakage of air hose. Replace the screw air compressor control air duct hose.
6. The inlet valve is not sensitive and not fully opened. It is necessary to overhaul the screw air compressor and check the control system.
7. The oil separator is blocked, and the filter element of the oil separator needs to be replaced.
8. When the drainage valve of the gas-water separator is opened, it is stuck and causes leakage, which should be repaired.
9. The vent valve is faulty, and the screw air compressor unit cannot be closed when loading. Need to repair or replace.
Shijiazhuang Compus Compressor Co., LTD., founded in 2004, is a high-tech enterprise specializing in the research and development, production and sales of air compressors. Its main products are oil-free mobile machine, drilling air compressor, two-stage compression screw machine and so on. Welcome to consult and cooperate!