Centrifugal air compressor: the working principle and characteristics of centrifugal air compressor
---
Centrifugal air compressor is a kind of turbine compressor, which has the characteristics of large gas volume, small volume, simple structure, smooth operation, convenient maintenance and free from pollution. As gas dynamics research achievement make constantly improve the efficiency of centrifugal compressor, and due to the high pressure sealing, small flow of narrow impeller machining, much oil wedge bearings, etc. The successful development of key technology, solved the centrifugal air compressor to high pressure, wide flow range in the development of a series of problems, the kombucha, compressor, introduces the working principle and characteristics of centrifugal compressor under.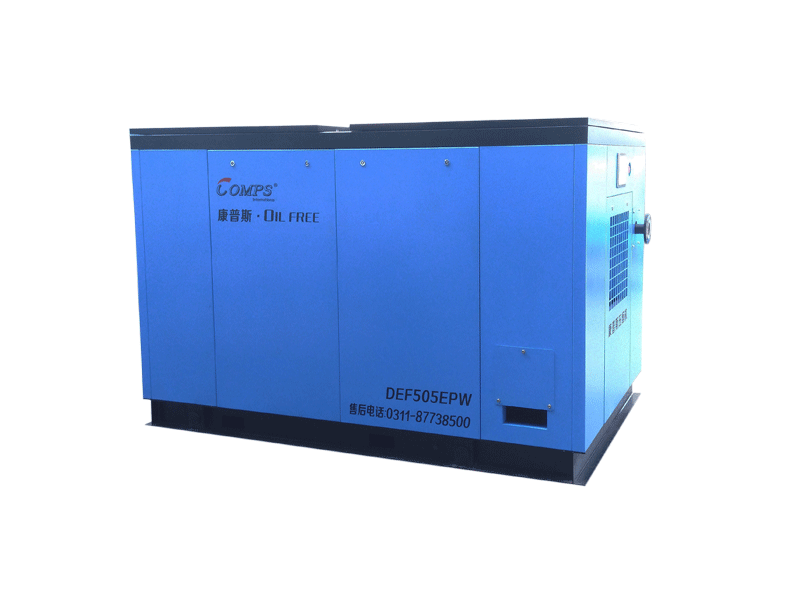 The principle of centrifugal air compressor is that the impeller drives the gas to rotate at high speed, so that the gas produces centrifugal force. Because of the diffuser flow of the gas in the impeller, the flow rate and pressure of the gas through the impeller are improved, and the centrifugal air compressor continuously produces compressed air. The centrifugal air compressor belongs to the speed compressor. When the gas load is stable, the centrifugal air compressor works steadily and reliably.
Secondly, centrifugal air compressor has compact structure, light weight and large displacement range; Centrifugal air compressor wearing less parts, reliable operation, long life; The exhaust of centrifugal air compressor is not polluted by lubricating oil, and the air supply quality is high. Centrifugal air compressor with large displacement has high efficiency and is conducive to energy saving.
In addition, the flexible disc coupling balanced by the centrifugal air compressor reduces the vibration to a very low level, and does not need the coupling oil, but also can provide other connection methods; The compact base set of centrifugal air compressors integrates the frame, intercooler and lubricating oil tank for excellent torsional stiffness.
Shijiazhuang Compus Compressor Co., LTD., founded in 2004, is a high-tech enterprise specializing in the research and development, production and sales of air compressors. Its main products are oil-free mobile machine, drilling air compressor, two-stage compression screw machine and so on. Welcome to consult and cooperate!